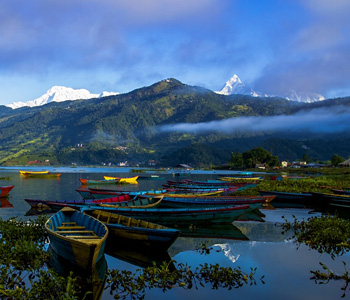 Pokhara Valley lies 200 kilometers west of Kathmandu, at the foot of the Annapurna. Dhaulagiri, Himalchuli, Machhapuchhre and the five peaks of the Annapurna fill the horizon. Pokhara is one of the few places in the world with such a dramatic view of a subtropical setting. Pokhara is fortunate to possess beauty below as well as above: Phewa Tal one of the largest lakes in Nepal, is the centerpiece of the Valley.

Things to do in Pokhara:
One of the most popular journeys is Sarangkot, the prominent 1700 meters hill just past the Lake's distance end. Pokhara is famous for trekkers as a starting point for Annapurna Base Camp Trek. Pokhara is also known as City of Lake as there are two lakes , one is Phewa Lake and another is Begnas Lake (outskirt and unspoiled).

There are sightseeing spots like Davis fall, Mahendra Cave, Gupteshwor cave, Mountaineering Museum.

About Food: There are also many international and local cuisine restaurant around Lake side.